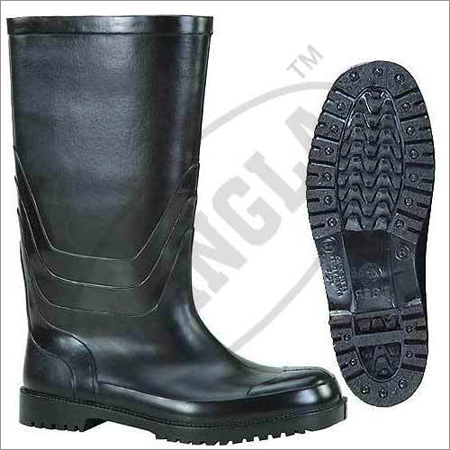 Knee Boot
Product Code : TIGER GUMBOOT
Product Description
anil_mangla@yahoo.co.in

Knee Boot

Our firm is counted amongst the most reliable enterprises, engaged in offering an industry-acclaimed assortment of the Knee Boot. These boots are designed and crafted using quality approved raw materials with the help of the latest technology to make sure of their enhanced service life. Our offered range is available in different sizes and can be customized as per the needs of the clients. These boots are widely used in the construction, electrical & chemical, oil, & gas refinery industries for optimum safety to industrial workers, exposed to hazardous conditions. Known for light weight, comfort, resistance to chemicals and durability, this Knee Boot is made available at a reasonable price.

Specifications:
Name of Product

TIGER

Design

Wellington

Size

7 X 10

Colors Available

Black

Height

356 + 10 mm (14.0 + 0.4 inch) Knee

Toe

Without Steel Toe Cap

Reinforcement

Complete body reinforcement with/without heavy duty Cotton lining
Toe : 4.0 mm
Vamp : 2.5 mm
Counter : 4.5 mm
Leg/Ankle : 1.5 mm

Thickness

Sole (overall) : 12.5 mm
Heel (overall) : 28.0 mm

Material

Sole : Polyvinyl Chloride
Upper : Polyvinyl Chloride

Hardness

Sole/Heel : 60 + 5oA

Sole Design

Anti Skid Lug Sole

Flexing Endurance

Upper : 1,50,000 Cycles (De Matin)
Sole : 50,000 Cycle (Ross)

Leak Proofness

No leakage when air with pressure of 1.5 Kg is forced into the Boot

Special Features

Kick-off Spur for easier extraction of foot from the boot.
Resistant to mild Acid/Alkaline upto 20% concentration. Change in hardness after immersion in 20% Acid/Alkaline for 48 hrs. is not more than + 3 A
Electrical Breakdown Voltage - 1 1 kv

Application

Industrial Boots having significant utility in Construction, Snowy Areas Industrial, Electrical & Chemical Enterprises, Salt Manufacturing Workers and Oil & Gas, Petroleum Refining facilities. Also the same are of use in heavy rains and snow.