Dynamic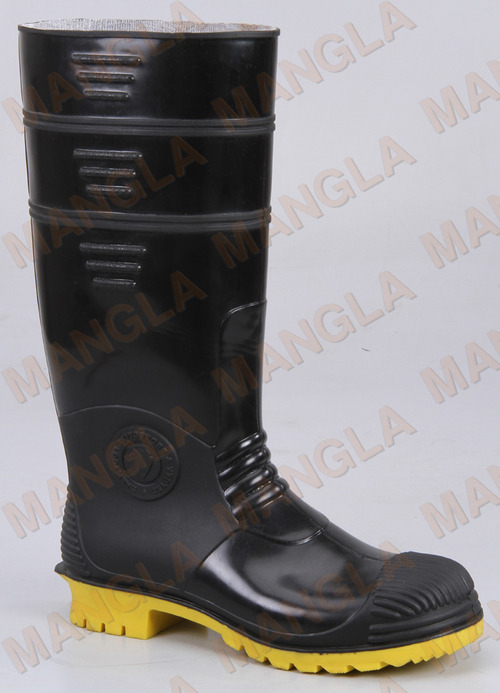 Dynamic
Price And Quantity
Product Specifications
Product Description
Name of Product

DYNAMIC (MANGLA)

Certification

IS:12254:1993 Certified by FDDI

Design

Wellington

Marked

Bureau Of Indian Standards ISI (CM/L-9691203), DGMS and CE

Size

6X10

Colours Available

Black, Blue, Brown, Green, White, Yellow Specially formulated fluorescent colours which reflect at dark places

Height

360 + 10 mm Knee

Toe

With / Without Steel Toe Cap

Toe Specification

Certified Steel Toe Cap used

Reinforcement

Complete body reinforcement with/without heavy duty Cotton lining
Toe : 4.0 mm
Vamp : 2.5 mm
Counter : 4.5 mm
Leg/Ankle : 1.5 mm

Thickness

Sole (overall) : 11.5 mm
Heel (overall) : 28.0 mm

Material

Sole : Polyvinyl Chloride (Hard)
Upper : Polyvinyl Chloride ( Soft)

Hardness

Sole/Heel : 60 + 5oA

Sole Design

Anti Skid Lug Sole

Flexing Endurance

Upper : 1,50,000 Cycles (De Matin)
Sole : 50,000 Cycle (Ross)

Leak Proofness

No leakage when air with pressure of 1.5 Kg is forced into the Boot

Special Features

Kick-off Spur for easier extraction of foot from the boot.
Resistant to mild Acid/Alkaline upto 20% concentration. Change in hardness after immersion in 20% Acid/Alkaline for 48 hrs. is not more than + 3 A
Electrical Breakdown Voltage - 20 kv(Above)

Application

Industrial Boots having significant utility in Construction, Mining, Industrial, Electrical & Chemical Enterprises and Oil & Gas, Petroleum Refining facilities. Also the same are of use in heavy rains and snow.