Industrial Gumboot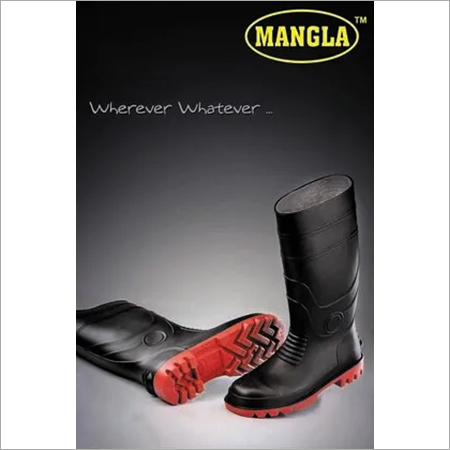 Industrial Gumboot
Price And Quantity
Product Specifications
Steel Toe

Safety Gumboot Goldyear
Product Description
Industrial Safety and Mining Gum Boot
We are manufacturer of double colour industrial safety gumboots with brand name "MANGLA". These gumboots are used in construction, mining, electrical factory areas. Below are the defined information about the product:

Name of Product

GOLD-YEAR

Certification

IS:12254:1993 Certified by FDDI

Design

Wellington

Marked

Bureau Of Indian Standards ISI (CM/L-9691203) CE MARKED

Size

5X11

Colours Available

Black, Blue, Brown, Green, White, Yellow Specially formulated fluorescent colours which reflect at dark places

Height

356 + 10 mm (14.0 + 0.4 inch) Knee

Toe

With / Without Steel Toe Cap

Toe Specification

Certified Steel Toe Cap used

Reinforcement

Complete body reinforcement with/without heavy duty Cotton lining
Toe : 4.0 mm
Vamp : 2.5 mm
Counter : 4.5 mm
Leg/Ankle : 1.5 mm

Thickness

Sole (overall) : 12.5 mm
Heel (overall) : 28.0 mm

Material

Sole : Polyvinyl Chloride (Hard)
Upper : Polyvinyl Chloride ( Soft)

Hardness

Sole/Heel : 60 + 5oA

Sole Design

Anti Skid Lug Sole

Flexing Endurance

Upper : 1,50,000 Cycles (De Matin)
Sole : 50,000 Cycle (Ross)

Leak Proofness

No leakage when air with pressure of 1.5 Kg is forced into the Boot

Special Features

Kick-off Spur for easier extraction of foot from the boot.
Resistant to mild Acid/Alkaline upto 20% concentration. Change in hardness after immersion in 20% Acid/Alkaline for 48 hrs. is not more than + 3 A
Electrical Breakdown Voltage - 1 1 kv

Application

Industrial Boots having significant utility in Construction, Mining, Industrial, Electrical & Chemical Enterprises and Oil & Gas, Petroleum Refining facilities. Also the same are of use in heavy rains and snow.
Trade Information
12 Pair One Outer Box

All India
ISI Marked IS : 12254:1993 IS : 15298 :2016 Part- 2