Mount Black Gumboot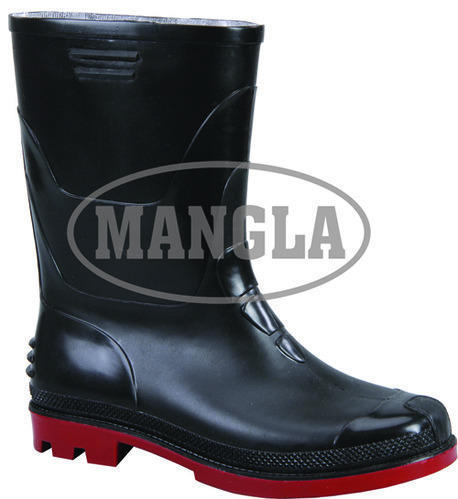 Mount Black Gumboot
Price And Quantity
Product Specifications
Product Description
Long Heavy duty Boot
Designing and exporting a wide range of PVC boots we have been able to cater to ever increasing demands of our clients spread across the globe. Customized as per the specifications of our clients these are offered at cost effective prices.
Name of Product

CLUSER

Design

Wellington

Size

5X11

Colors Available

Black, Blue, Brown, Green, White, Yellow Specially formulated fluorescent colours which reflect at dark places

Height

265 + 10 mm (14.0 + 0.4 inch) Knee

Toe

Without Steel Toe Cap

Reinforcement

Complete body reinforcement with/without heavy duty Cotton lining
Toe : 4.0 mm
Vamp : 2.5 mm
Counter : 4.5 mm
Leg/Ankle : 1.5 mm

Thickness

Sole (overall) : 12.5 mm
Heel (overall) : 28.0 mm

Material

Sole : Polyvinyl Chloride (Hard)
Upper : Polyvinyl Chloride ( Soft)

Hardness

Sole/Heel : 60 + 5oA

Sole Design

Anti Skid Lug Sole

Flexing Endurance

Upper : 1,50,000 Cycles (De Matin)
Sole : 50,000 Cycle (Ross)

Leak Proofness

No leakage when air with pressure of 1.5 Kg is forced into the Boot

Special Features

Kick-off Spur for easier extraction of foot from the boot.
Resistant to mild Acid/Alkaline upto 20% concentration. Change in hardness after immersion in 20% Acid/Alkaline for 48 hrs. is not more than + 3 A
Electrical Breakdown Voltage - 11 kv

Application

Industrial Boots having significant utility in Construction, Snowy Areas Industrial, Electrical & Chemical Enterprises, Salt Manufacturing Workers and Oil & Gas, Petroleum Refining facilities. Also the same are of use in heavy rains and snow.
Trade Information
20 Pair Per Box

All India